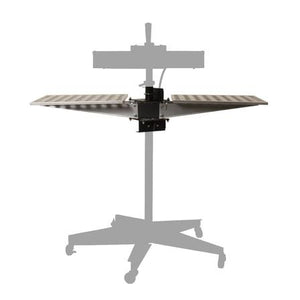 BBC Black Flash Full Cure Rotator
The perfect solution for curing on a budget, turn your BlackFlash® Dryer, into a full cure tool with the BBC Rotator Flash Pallets. These pallets are made specifically for curing shirts with your BBC Black Flash. Making the perfect small and portable curing unit for the mobile or small-scale screen printer concerned about space. Each thin, CNC cut steel, 16 x 18 inch pallet is uniquely designed to deflect heat from the garment and provide curing temperatures necessary for curing both plastisol and water based ink. These pallets easily attach to the Black Flash® Dryer, and can rotate independently from the flash head to give you versatile curing power and fold down when not in use, allowing you to use your flash dryer for normal flashing purposes.
If you have any questions on this product please contact us via Chat, Email or Phone.
NOTE: For curing, place the height of your heater head 3 - 4 inches above your platens.
Two 16 x18 inch pallets, made from thin, CNC cut steel for lightweight and versatile movement.
Easy attachment to your Black Flash®  Dryer: Simply lift off the flash dryer head and main pole, attach the rotating section and lock into place.
Space efficient cord storage; cord fits conveniently inside of the rotator pallet, so it doesn't get in the way of the flash spinning.
Rotator pallets move independently from the flash dryer allowing you to move them into position. They also fold down easily allowing you to still use your flash dryer and press for normal purposes.
NOTE:

 

NO FLASH DRYER INCLUDED WITH ROTATING PALLETS.